Shaping an instinct into an idea at the time of uncertainty such as a pandemic, Literature Curry is a manifestation of human creativity in the face of adversity. Streamlining different geographic locations and time zones, this platform seeks to kindle the light of literature in every home. It aims to demolish barriers of access. Thrown open to all, people from all walks of life can find a sense of belonging here.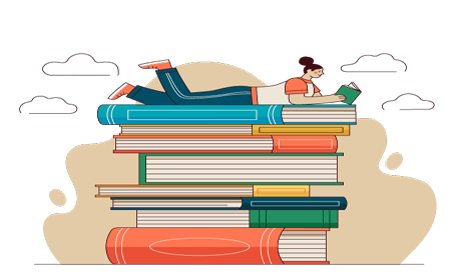 PDFs on important Points to Remember, E-books as well as miscellaneous posts of academic nature cater to the less- privileged students and aspirants of various competitive exams. With the rapid pace of digitization, it aims to manifest hope and optimism by converting adversity to opportunity. The purity of thought and honesty of expression in the pages of a book have guided minds since centuries. The silver lining offers elevated way of life by uplifting the masses from the fringes.
Literature has kept tally of the best and the worst of times. When placed in the context of history, it has chronicled human experiences, personal tragedies and future fears. Moving ahead, it aims to create conducive environment for debate and discussion. It is also a platform to exchange different ideas and views.
Here, you have an option to incorporate pop-culture with literature. Talk about folklore or magical creatures, live literature with John Snow and feel it like Hamlet; introduce yourself to fiction with Harry Potter, analyze the literary techniques and get in touch with the concept of close-reading. The interdisciplinary studies of Literature and Culture attempt to study this interplay in influencing and transforming the social fabric.
Literary journalism, one of the features of Literature Curry gives an international platform to the students as well as literature enthusiasts to warm themselves up with the happenings in the literary arena around the world. Often sharing pretentious space in print and electronic media, my goal is to make literatures written and translated into Englishes closer to home.
Mindful communication is the need of the hour. Thoughtful, critical and socially useful conversation plays a dominant role in influencing and changing any society. The art of good communication is an empowering skill to know. The study of literature coupled with good communication skills not only enlighten individuals but also enables to create a culture that values art and literature
Though, a far-sighted dream, I desire from this platform to nurture passionate and creative minds. I believe that identification of abilities through the proper engagement and assemblage of enthusiastic and hard-working people across the globe can pave roads of opportunities.